::: Video Workshops :::
:Remote Discovery Series I:
Divine Sex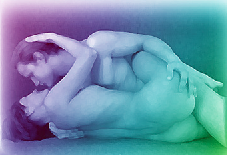 Explore the nature of the Divine Masculine and Divine Feminine energies, characteristics, and challenges. Discover new ways of working with your masculine creative force, growing in love through depth and direction, and channeling your presence in fulfilling and life-enhancing ways. Explore the flows of feminine radiance and beauty, deepening surrender in love, bliss, and opening to the fullness of the ocean of the Self. Learn techniques for managing the balance within you, in your work, play, creating alchemy in relationship, and having great sex. Principles and teachings of David Deida, Mantak Chia, Rev. Michael Beckwith, Barbara Ann Brennan, and others will be explored.
Divine Sex: Part 1 from Adam Apollo on Vimeo.
View the Complete Divine Sex Series Here
Divine Sex Part II, and Magical Alchemy
In this session, we will explore the Divine Masculine and Feminine further, and apply these energy dynamics to magical applications. Learn how to use these energies internally to create charge through polarity, as well as dispel charge through surrendering emotinonally into the feminine or expanding awareness through the masculine. Go deeper into Yin and Yang, healing applications, and more.
Alchemical Magic Part 1 from Adam Apollo on Vimeo.
View the Complete Alchemical Magic Series Here
Circulating Chi and Energy Practices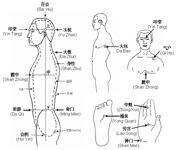 Learn techniques for opening your greater heaven and lesser heaven circuits, opening and stimulating meridians, drawing energy up your spine, and using the breath to focus and move energy quickly or in subtle ways. Develop awareness around applying these techniques in multiple areas of life, work, play, and sex.
Circulating Chi Part 1 from Adam Apollo on Vimeo.
View the Complete Circulating Chi Series Here
Archetypes, Roles, and Embodiments
Explore different male and female archetypes and gateway passages, looking at the development phases of our human transformations and the many roles we can step into an play in relationship dynamics. Practice opening and expanding different parts of yourself to have more fulfilling experiences in certain situations, as well as come to understand your self more deeply. Discover the role of past-lives in self-discovery, and the ways you can embody your many selves in practical ways.
Gifts of Love (coming Soon)
What expressions of love do you experience most deeply and fully? Do physical gifts open your heart more than poetic words that caress your mind? Does compassionate touch open your being, or would you rather be shown new experiences and fall in love through the rapture of discovery? In this session, we will explore how different types of expressions of love activate and inspire different people in different ways. Develop some simple questions and ways of discovering how the people you love want to be loved, and practice mastering your loving expressions in new forms.
::: Guided by Adam Apollo :::
Trained in multiple martial arts and a Tantra practitioner for over 11 years, Adam is also a nationally certified and licensed massage and bodywork therapist (LMBT). Awakening to an Akashic Library of Sacred Geometry, Magic, Metaphysics, Energetics, and Holistic System Dynamics at the age of 15, he's taken on many apprentices and taught numerous workshops across the entire spectrum of Metaphysical and Occult Arts since then.
Initiated in Indigenous Ceremonies with elders from Cherokee, Lakota, Mauri, Navajo, and Hawaiian Traditions, Adam has smoked the White Buffalo Peace Pipe passed down through Crazy Horse from the White Buffalo Calf Star-Woman. He helped to organize two Prayer Runs for World Peace, and held circle in World Peace Prayer Day ceremonies in Alaska and the Black Hills.
Adam has experienced direct physical contact with an extraterrestrial Galactic Council Ambassador, has participated in many Galactic Council sessions, and has been initiated by 6 different Star-Nations through Ayahuasca Ceremony. He has nearly complete memory of seven previous lifetimes, and most of the primary memory fragments of many others.
Professionally, Adam Apollo is the Executive Director of Access Granted, a multimedia educational resource company, and provides advanced technology consultations, web design and development, as well as branding and media services. His resume and references can be explored through LinkedIn: http://www.linkedin.com/in/adamapollo
Company Websites:
http://AccessGranted.com
http://jovanthunder.com
Personal Research Website:
http://adamapollo.info
Professional Portfolio:
http://adamapollo.com
::: Private Personal Sessions :::
Adam is also currently providing private personal sessions in the SF Bay Area, and by phone. Please contact Adam Apollo using the form below for more information or view the full personal services listing to reserve one of these very limited sessions.