These courses will address several major aspects of our engagement with life and reality. First, I'm leading an evening session on the interconnectivity of the universe itself, and sharing tons of insights and secrets about how to use your Chakras and Sacred Geometry in very practical ways. Then, we're going to explore the truth about extraterrestrial contact on Earth, emergent technologies that will change every aspect of our lives, and our future as an interplanetary species!


Wednesday August 8th ::: 3-5pm ::: Yoga Shala North Williams
The Unified Harmonic Matrix Presentation
Exploring Universal Fractal Coherence, Sacred Geometry, & the Integral Body
The Unified Harmonic Matrix is an integral theory that emerged from a series of visions on the interconnectedness of all things on all levels of existence. After years of research, Adam Apollo developed and mapped a natural organization to these dimensional layers of the Universe, in which there is a coherence across lines of scale that mirror the processes of human consciousness. This workshop is an introduction to this research and includes visual expressions of this understanding, integrating and explaining the Unified Harmonic Matrix through a description of what might be called the Ray of Creation, numerological progressions, and Sacred Geometry, as well as providing a foundation to understanding the holographic theorem and unified field theories in Physics.
Begin at the birth of existence, evolving through the dynamics of polarization, balance, and crystallization. Experience the awakening of consciousness through multi-dimensional geometry, and learn to apply symbols and sigils to guide and direct energy with precision. Enhance your intuition, and gain tools for practical application of metaphysical knowledge for Planetary Transformation and Healing. Explore the foundation of all Magical symbols, discovering the relationships between dimensions of our experience and the application of our intention. Learn the basics of telepathy, shielding, geomancy, astral travel, and energy healing.
This model has been independently verified by Nassim Haramein as applicable to the Unified Field physics that form the heart of his research. Adam Apollo, Nassim, and the award winning Space Team from Singularity University (at NASA Ames) are currently in collaboration utilizing the specific geometric concepts and insights in this model to enable revolutionary new technologies to emerge.
For more information on this model, visit the Unified Harmonic Matrix Database.
$33 Admission Offering Requested
:::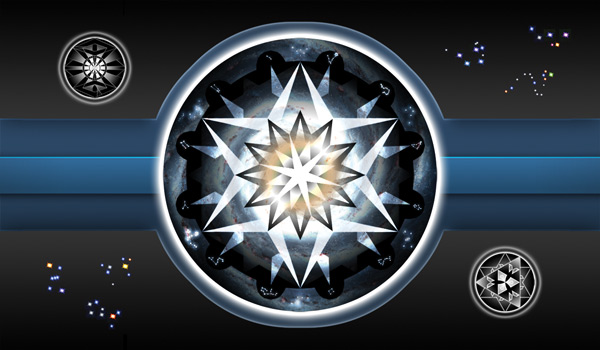 Wednesday August 8th ::: 6:30-8:30pm ::: Yoga Shala North Williams
Galactic Earth: Humanity's Interplanetary Future
Developing your Capacity as a Leader and Guardian of Community and Planet
In this session, Adam Apollo will explore the nature of our place as a species within the Universe, as well as the many possibilities, potentials, and purposes behind existing information about Extraterrestrial contact, interplanetary politics, and Galactic relationships.
Explore extraterrestrial relationships with humans in history, and into the present day. Understand why this connection has been kept secret, and why starships have not yet landed on the White House lawn. Discover new technologies and consciousness currently emerging that change the picture of humanity's present and future. Finally, awaken to the awareness of our forthcoming interplanetary culture and ways of being, and get to know our Galactic Family…
$33 Evening Admission Offering Requested
Location:
Yoga Shala North Williams
3808 North Williams Avenue
Portland, OR
::: Guided by Adam Apollo :::
Adam Apollo has offered insights on consciousness development, physics, future technology, and planetary transitions at the White House, in a United Nations summit, and at conferences and festivals around the world. He awoke to a complete library of Sacred Geometry and Metaphysical knowledge at the age of 15, and spent many years afterwards teaching and integrating this information through developing deep personal magical and martial arts practices.
After being invited to hold council with Indigenous Elders from around the world in private fire ceremonies, Adam Apollo helped to organize two prayer runs for world peace across the North American Continent, and smoked the White Buffalo Peace Pipe passed down 19 Generations from the White Buffalo Calf Woman. In 2005, Adam physically encountered a Galactic Ambassador from a starship, met Ambassadors from 73 Species of the Galactic Council through an Astral stargate, and recovered memories from several lifetimes before his journey to Earth. Since then, Adam Apollo has worked with many leaders in the field of exopolitics and ET contact. He has held private technology meetings with Steven Greer of the Disclosure Project, lead talks at NASA and SSA on Extraterrestrial Technologies and new Physics, engaged with Michael Salla of the Exopolitics Organization, worked with Astronaut Edgar Mitchell, invited and introduced Nassim Haramein of the Resonance Project Foundation at private high-level meetings surrounding a United Nations summit, and is currently helping to bring teams and resources together to develop new energy systems and starship technologies.
Personal Research & Sacred Knowledge Database
http://adamapollo.info
Professional Portfolio:
http://adamapollo.com
Resume & References:
http://www.linkedin.com/in/adamapollo
Facebook:
Jedi & Leadership Training Page
Director & Founder:
Visionary Arts Foundation
Non-Profit Educational Organization
Design & Development:
Jovan Thunder Design
Open Source Technology Development:
Enlightened Structure